Press Release
UN, Government discuss Integrated National Financing Frameworks' Building Blocks
25 October 2021
Members of the Joint expert group on SDG financing took part in a two-day session on learning the Integrated National Financing Frameworks Building Blocks (INFF BB).
The participants explored the structural blocks of the INFF, as well as discussed further potential steps to implement the commitments made by Turkmenistan in the area of financing sustainable development within the Addis Ababa Action Agenda and other global initiatives.
Through the facilitation of the UN Resident Coordinator's Office in Turkmenistan, the UN experts representing UNICEF, UNDP Turkmenistan, and UNDP Regional Support Center in Istanbul presented the Building Blocks covering Assessment and diagnostics, Governance and coordination, Financing strategy as well as Monitoring and review.
This activity was carried out as part of the Action Plan for 2021-2022 of the Group.
In addition to the learning part of the meeting, members of the group agreed on Action Plan updates, tentative agenda for the next meetings and shared their views on the involvement of a wider stakeholder community in the work of the group or to some of its selected events. The need for involvement of the private sector was underlined by several participants.
One of the main tasks of the expert group is to study the experience of sustainable development of SDGs financing and present this experience at the country level to inform decision-makers on the effective implementation of the SDGs in Turkmenistan.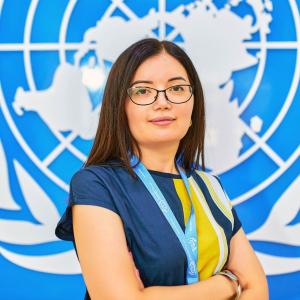 Mahri Eyeberdiyeva
RCO
Programme Communications and Advocacy Officer
UN entities involved in this initiative
UNDP
United Nations Development Programme
UNICEF
United Nations Children's Fund