Press Release
Steering Committee Working Group of the UN-Turkmenistan Joint Programme on social services reviews the progress
21 October 2021
The Steering Committee Working Group of the Joint Programme on community-based social services convened its fifth meeting online co-chaired by the Ministry of Labour and Social Protection of Population of Turkmenistan and UNICEF to review and discuss the Joint Programme implementation.
The participants representing UNICEF, UNDP, UNODC, and UNFPA, and the national stakeholders, including leading national partners such as Mejlis of Turkmenistan, Ministry of Education of Turkmenistan, and Ministry of Health and Medical Industry of Turkmenistan as well as civil society organizations, such as the National Red Crescent Society, Yenme, Keyik Okara, and Deaf and Blind Society of Turkmenistan reviewed the progress of the implementation of the Joint Programme.
The implementing partners presented the initial results of new piloted services including the Provision of primary social services at the etrap level; Specialized social services for children; Specialized social services for the prevention of domestic violence and unwanted pregnancy; Specialized social and medical services at home for people with chronic diseases and Specialized social services for families with teenagers with problematic behavior.
The participats were also briefed on the results of the review of the legal and regulatory framework of Turkmenistan governing social services as well as the plan for introduction of the Bachelor programme in Social Work at the Higher education establishments of the country. The implementation of these components is important to ensure the sustainability of the proposed model of social services at the community level. Furthermore, the discussions on the national mechanism for cross-sectoral coordination were continued together with the  briefing on the ongoing economic analysis, to ensure fiscal space creation for the  new community-based social services system in the country.
Resuming the meeting, the members of the Working group agreed on further steps to develop the mechanism for the implementation of inclusive social services at the community level.
The Joint Programme "Improving the system of social protection through the introduction of inclusive quality community-based social services", funded by the Joint SDG Fund, is being implemented by the partnering UN agencies, namely, UNICEF, UNDP, UNFPA, and UNODC and Government of Turkmenistan. The Joint Programme aims to introduce a new model of social services at the community level accompanied by relative legislative reviews and capacity building of the national social service workforce. The lead national partner is the Ministry of Labor and Social Protection of the Population of Turkmenistan and the lead UN agency is UNICEF. Other key national partners include the Mejlis of Milli Gengesh, Ministry of Education, Ministry of Finance and Economy, Ministry of Health and Medical Industry, andthe Ministry of Internal Affairs.
Implementation period: 2020-2022. 
Steering Committee Working Group of the UN-Turkmenistan Joint Programme on social services reviews the progress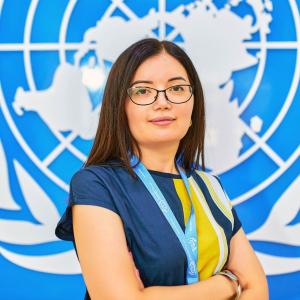 Mahri Eyeberdiyeva
RCO
Programme Communications and Advocacy Officer
UN entities involved in this initiative
UNDP
United Nations Development Programme
UNFPA
United Nations Population Fund
UNICEF
United Nations Children's Fund
UNODC
United Nations Office on Drugs and Crime