Press Release
UN, Government launch mid-term review of national Sustainable Development Goals in Turkmenistan
22 November 2021
UN in Turkmenistan jointly with the Government conducted national consultations on 17 Sustainable Development Goals (SDGs) within the mid-term review of the implementation of SDGs.
Given that six years have passed since the adoption of the national SDG framework in 2016, it was agreed to organize the review of the national SDG monitoring matrix in a participatory and consultative mode, involving relevant government ministries and departments, private sector, civil society organizations and UN agencies. Every SDG Goal, its targets and indicators have been reviewed separately during which availability of baseline and target indicators as well as capacity development needs on methodological aspects were also clarified. 
The purpose of the proposed national SDG mid-term review in Turkmenistan was to take stock of the SDG implementation progress in the country, identify good practices and analyze possible gaps to ensure timely policy measures, as well as to ensure that the country firmly continues on the path to achievement SDGs.  The principle of SDGs on leaving no one behind guided the mid-term review to ensure due analysis of SDG progress for vulnerable groups.
The participants of these meetings reviewed targets and indicators adopted by Turkmenistan for 17 SDGs comparing with global changes. They had also discussed the plans for their implementation within the national programmes and plans. To ensure quality analysis, a tool for tracking national SDG progress proposed by the ESCAP will be utilized when significant datasets are collected.
The national Working Group on implementation of SDGs is responsible for soliciting and consolidating the relevant data, analyzing the achievements and possible gaps, organizing consultations across sectors, regions etc., and drafting the SDG mid-term review report.
As an outcome of the national SDG mid-term review, the following results are expected:
Publication of the national SDG mid-term review report of Turkmenistan with the analysis of progress on achieving nationally defined SDGs and policy recommendations on acceleration of SDG achievement in the country.
National launch of the SDG mid-term review report, thus enhancing advocacy and awareness on SDGs and Agenda 2030.
Presentation of the national SDG mid-term review report at the ECOSOC High-Level political forum in 2023, to share Turkmenistan's experience in SDGs implementation, thus contributing to global efforts on SDGs acceleration.
UN, Government launch mid-term review of national Sustainable Development Goals in Turkmenistan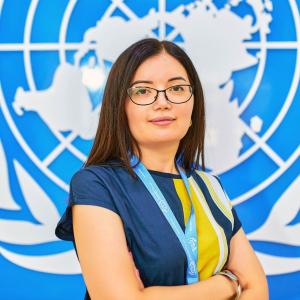 Mahri Eyeberdiyeva
RCO
Programme Communications and Advocacy Officer
UN entities involved in this initiative
UNDP
United Nations Development Programme
UNFPA
United Nations Population Fund
UNICEF
United Nations Children's Fund
UNODC
United Nations Office on Drugs and Crime
Goals we are supporting through this initiative