Press Release
In the lead up to transforming education summit 2022 the national consultations launched
22 June 2022
The Government of Turkmenistan has launched the national consultations in preparation for the Transforming Education Summit which will be held in September in New York. United Nations in Turkmenistan, UNICEF country office, UNESCO Tehran Office and the Turkmen National Commission for UNESCO are supporting the Ministry of Education – the National Convenor of the national consultations, that will continue from 21 June to 15 August.
The inclusive dialogues on the transformation of education mobilized the broad public engagement including national ministers, students and youth organizations, civil society groups, teacher associations, the private sector, academia, media as well as other education influencers.
These consultations aim at developing a shared vision, commitment and alignment of action across constituencies to transform education between now and 2030. Under the leadership of the Government of Turkmenistan, national consultations are intended to put focus on the policy, planning and budgetary changes needed to recover learning losses, get SDG4 back on track and reimagine education into the future.
They were built around three discussion themes: ensuring full recovery after the COVID-19 pandemic; identifying the main strategic transformations and levers for reimagining education for the 21st century and accelerating progress towards shared education goals; raising the ambition of national education targets and benchmarks.
The national consultations will result into the development of a summary report to the Summit secretariat and the National Statement of Commitment to Transform Education, capturing national commitments and consensus on priority actions, building on existing plans, programmes, and initiatives.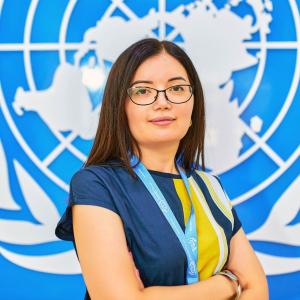 Mahri Eyeberdiyeva
RCO
Programme Communications and Advocacy Officer
UN entities involved in this initiative
UNESCO
United Nations Educational, Scientific and Cultural Organization
UNICEF
United Nations Children's Fund