Story
People with unlimited abilities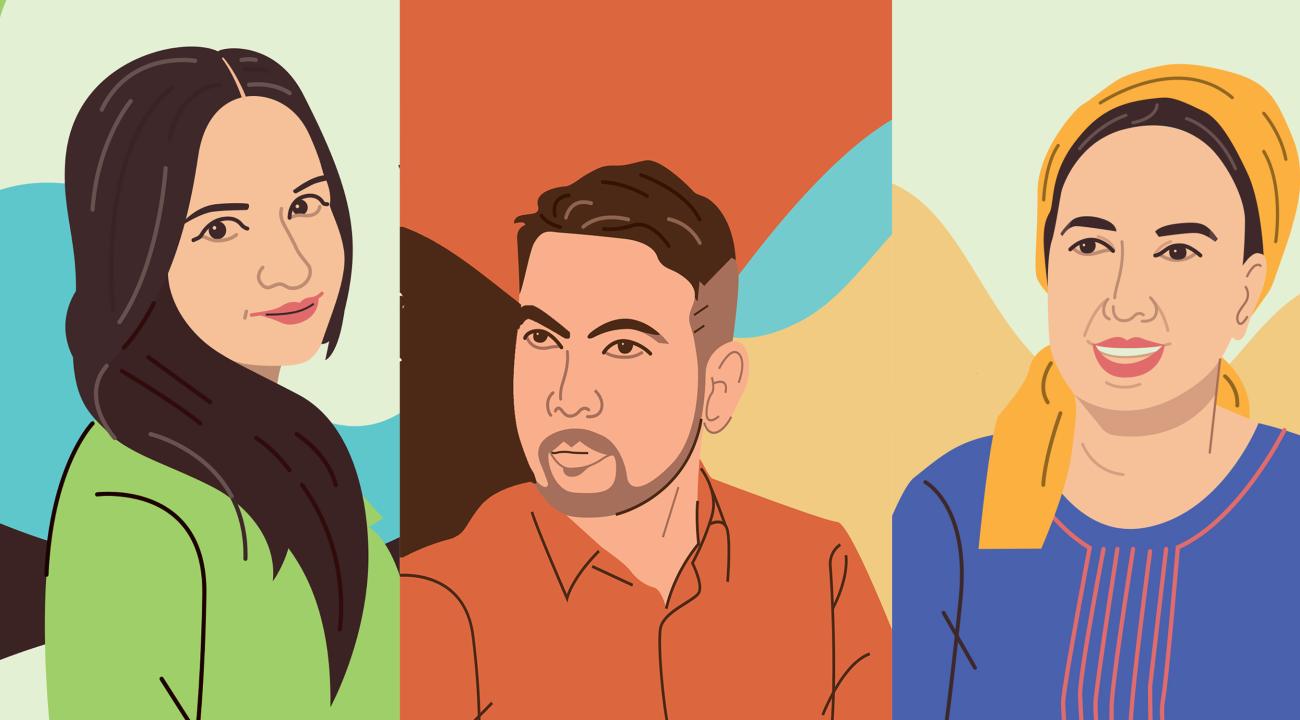 "People with unlimited abilities" project is a contribution to the fight against social stigma against people with disabilities.
What do you know about people with disabilities? How do they live? Where do they work? How do they spend time? What do you think about the lives of people who are different from you?
This initiative is a contribution to the fight against social stigma around people with disabilities. The goal of each story is to illustrate a personal history of a person who overcomes the burden of disability and demonstrates that sky is the limit. However, we are not being idealistic.
We are well aware of the existing obstacles that each person with disability faces every day. Through these stories we are communicating the struggles and the successes of three people with different disabilities. We paint portraits of strong people, role models and modern heroes, the characters that many of us miss.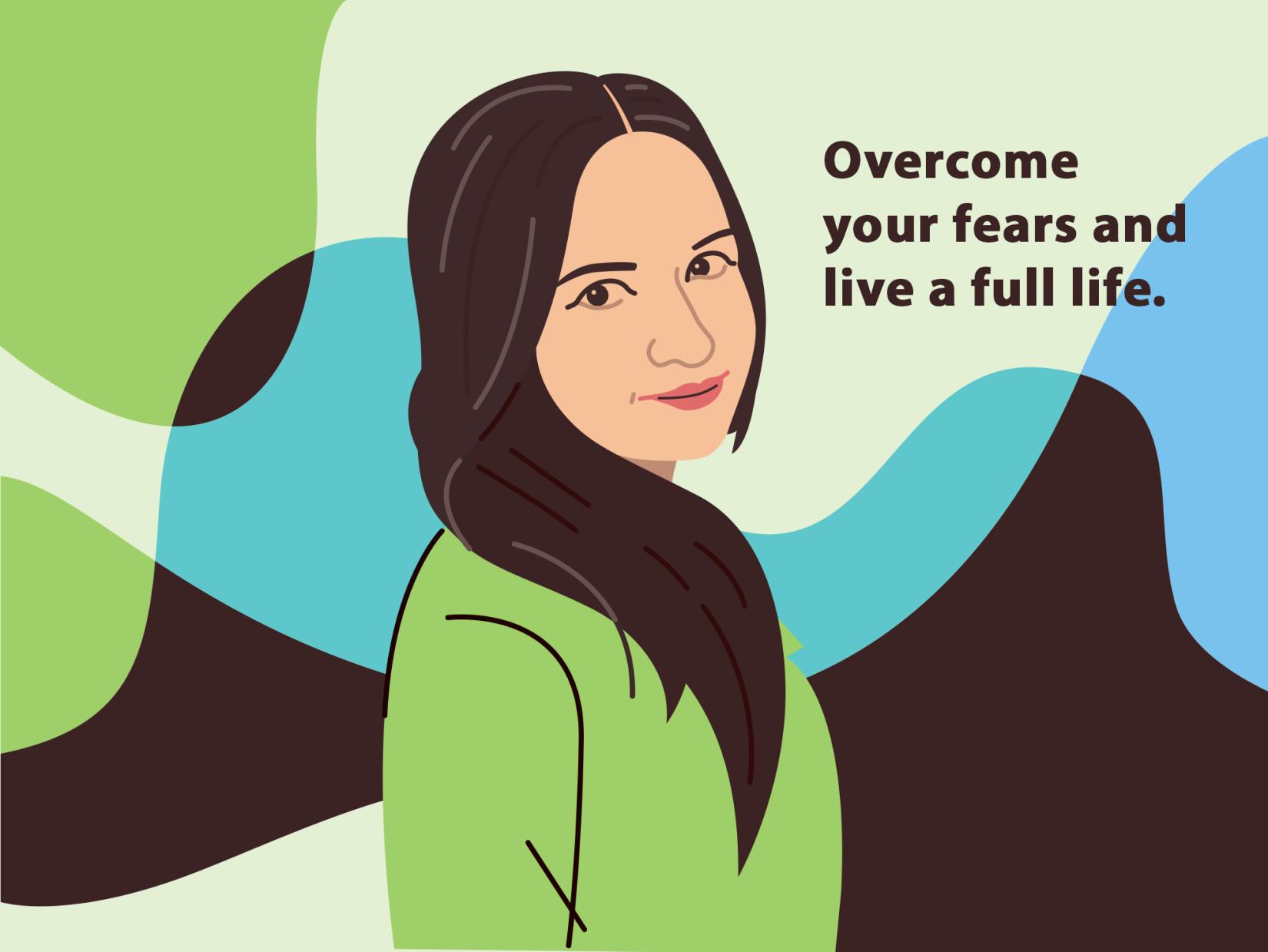 Having been born with a disability, Madina did not suspect her situation until the age of 14.
"I was a very active child. I loved running, playing with other children. But in the 7th grade, I ended up in the hospital, I was isolated from the community of peers for a long time. "
In grade 7, the injury that Madina received at birth started to bother her. Madina had a joint dislocation and in her teens, when muscles and bones usually do not grow evenly, Madina began to experience pain and could not step on her leg. After the surgery, Madina had a very long recovery process.
"I was afraid that I could never walk again. I thought disability was a sentence for me. I did not want to accept my disability and did not associate myself with people with disabilities."
However, as time passed, Madina moved to Ashgabat, where she met with the public organization "Yenme". She began working as a community specialist. In two years, Madina has changed a lot.
"I was very closed and did not want to communicate with other people with disabilities. When my family tried to send me to a sports school for the disabled, I completely refused."

"Today I work at "Yenme", I am open to the new, and I am known as a girl with a disability, which helps other people with disabilities to believe in themselves, in their abilities."

"When I work at "Yenme", I often come across children who have a delay in psycho- emotional development. Watching the problem of a shortage of specialists, I set myself the task of becoming a children's speech therapist. I already tried to get an education, but I think I didn't have the confidence and strength to go where I wanted to. But I did not give up. I received a diploma from a college and now I am raising funds to get my desired education abroad."

"I believe that I should not blame anyone for my disability and what happened to me. Everything is in my hands, and I try to do everything to live like all the people around. I have friends, have a favorite job and have a dream of becoming a mother. I'm sure I can do anything. I guess this is happiness."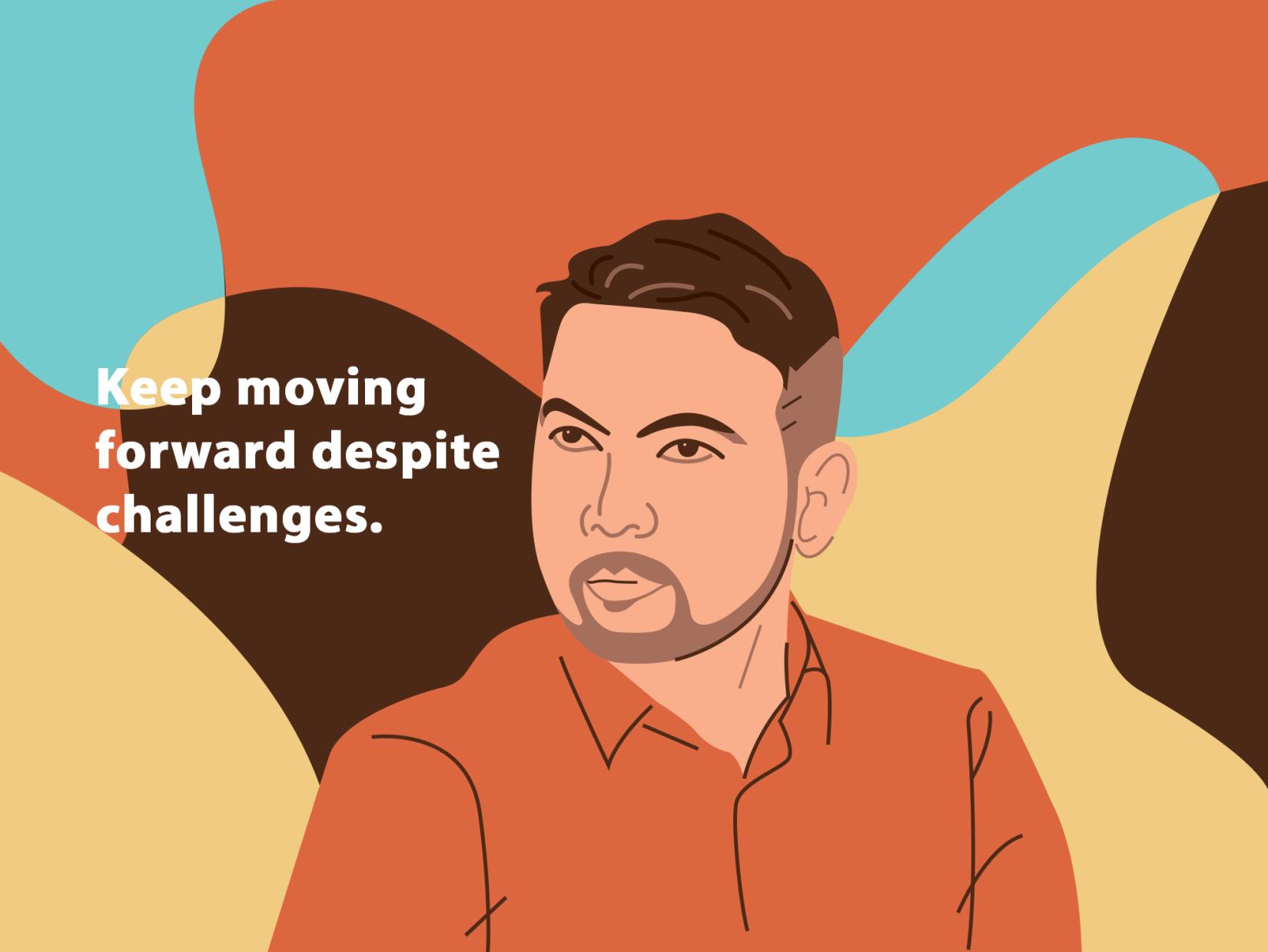 Shohrat acquired disability in his teens. Until now, every day he fights pain in his whole body. An accurate diagnosis was never made.
"I was always the tallest and the strongest child in the yard. I really loved football and could play with friends all day. We were interrupted only to drink water and eat, and again ran to play. I also loved to play chess and checkers, and even won competitions at school and our city."
At the age of 14, Shohrat began to experience severe pain. First in the lower limbs, and then throughout the body. Doctors treated Shohrat for neuralgia, and since he was not feeling better, they tried to make a new diagnosis. However, the pain did not stop.
"I was very fond of studying and despite the fact that I spent a lot of time in the hospital, I was still able to finish school and even get a certificate for academic performance.
"Overcoming pain, I even went to a university in Kyrgyzstan. But after the first year, I just could not get out of bed." 
Shohrat spent 10 months in bed, taking various treatments and continued to lose weight.
"There was a moment when I became very scared for my life. But I thought I didn't want it to end like this. There were people who helped me move to Ashgabat. I started taking a new treatment, and it somehow helped. I came to my senses again and began to gain weight."
Shohrat began to master the IT field and got a job.
"My first job was in a government agency. They appreciated me there and I really liked it. Then I got a job at the company and worked there for several years. I got married and had children. However, in 2018, I felt worse again. I had to leave work."
Now family and children are the main source of strength for Shohrat. To ensure their well- being in August 2018, Shohrat, among other participants with disabilities, took part in the Job Fair of the United Nations Development Program, where 12 companies and organizations were represented.
"Honestly, I thought it was all for show, but my wife literally pushed me and together we came to the Fair in the UN building, where I left my resume. After a couple of weeks, I was invited to an interview in Bouygues. And now I'm working again, and again I can support my family."
Shohrat dreams of opening his own company in the field of information technology. "I believe that this is a promising area, as the digital economy, in particular Internet trading and the online payment system, is rapidly introduced in our country."
"Children and family are my everything. I did not give up and do not think that anyone should do this. Now, because of my incomprehensible illness, it's hard for me to make big plans, because I don't know when
the pain will come back to me. But as people say, Rome was not immediately build, and I believe that everything will work out well for me."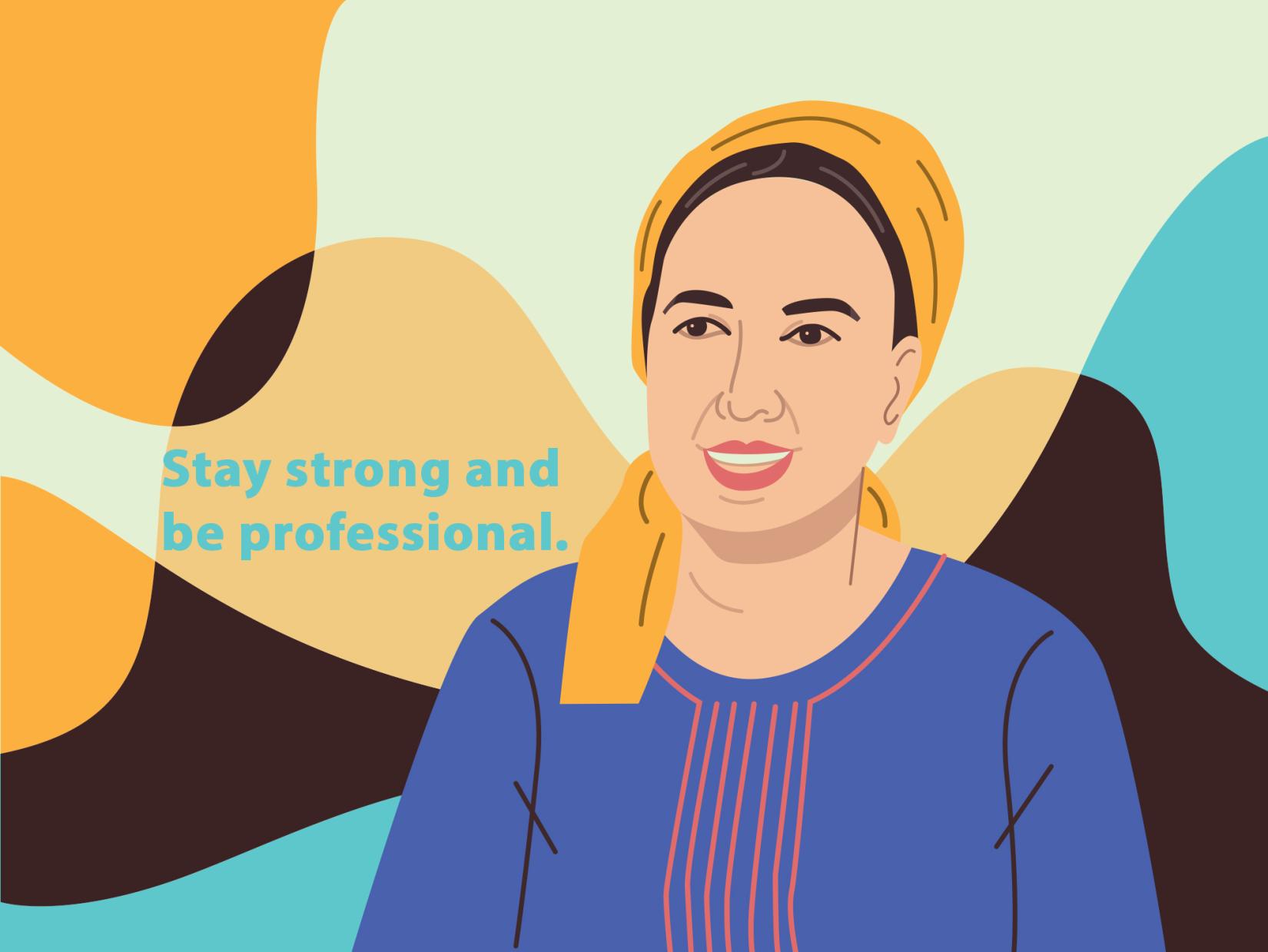 Nurtach lost her hearing in childhood as a result of illness. But her parents did not give up and invested in the education of her daughter. Today Nurtach is 41, she is the mother of two healthy children and works as an embroidery designer.
"My parents sent me to study in Ukraine, where I graduated from a boarding school. Then I returned to Turkmenistan and graduated from art school. I always loved to draw and design embroideries."
Nurtach, like many people with disabilities, faced many difficulties in finding a job, because employers do not know how to work with people with disabilities, especially with the deaf. For this reason, Nurtach worked at home and did embroideries.Not only employment is difficult for people with disabilities, but also education. However, Nutrach became a member of several UNDP projects that allowed her to complement her education and gain new skills.
"In 2007, I took part in a UNDP project and learned how to use a computer and the Internet. I began to do embroideries on a computer. And then I went to study at a Textiles College and I was hired by Jamilya from Dunya Dane," recalls Nurtach.
Today is 2.5 years as Nurtach works at the sewing enterprise. She is a sought-after embroidery specialist. 
"Today I work as a designer. I make designs of embroidery on a computer and make them myself on a special machine. I do advertising through embroidery. I have been working here for more than two years."
"I dream of working as a teacher in a boarding school for children with disabilities. I want to teach a labor lesson and pass on my knowledge to them. I believe that both healthy and disabled people should learn and work together to better understand each other and overcome difficulties, as we are all equal."
Thousands of people with disabilities in Turkmenistan and in the whole world fight for their health, overcome low self- esteem and employment obstacles.
Shohrat / Madina / Nurtach – are success stories. Let's create inclusive environment for each of us. "People with unlimited abilities".
To watch the videos follow the links: 
"People with unlimited abilities" Madina _ Eng
«Люди с неограниченными возможностями» - Madina _ Rus
«Люди с неограниченными возможностями» - Nurtach_RUS
«Çäklendirilmedik mümkinçiligi bolan adamlar» - Nurtach _Turkmen
People with unlimited abilities - Nurtach_Eng
«Люди с неограниченными возможностями» - Shohrat_Rus
«Çäklendirilmedik mümkinçiligi bolan adamlar» - Sohrat TM
"People with unlimited abilities" - Shohrat ENG
UN entities involved in this initiative
UNDP
United Nations Development Programme