Story
UNFPA-supplied Sayana Press contraceptives reach at-risk women in Turkmenistan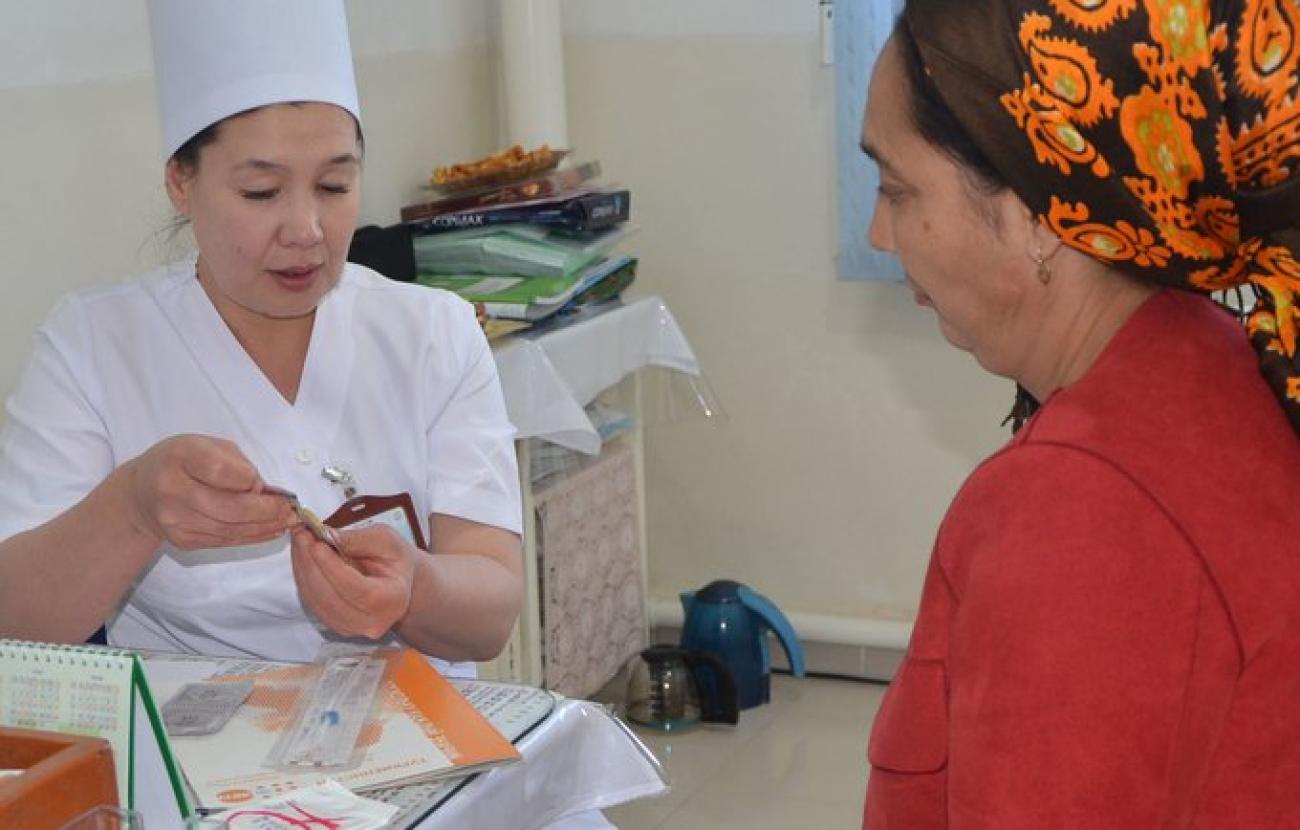 Healthy pregnancy is the right at the times of a global pandemic
Jeren came out of the reproductive health room – specialized clinics where people can receive sensitive and accurate family planning counselling, as well as other reproductive health services and contraception - with mixed feelings. "My husband and I have waited for several years to have our third child," she said, who was just received by the reproductologist in Mary region of the country.  "However my analysis showed that I have anemia, and we were encouraged to get a treatment before we can plan our family," she said.
The reproductologist offered the Sayana Press injectable, UNFPA supplied contraceptive, which lasts for three months and is a good option for women who would like to postpone their pregnancy for just a few months.  "A healthy baby is worth a wait," her husband smiles.   
Amid the global pandemic, UNFPA supports the Ministry of Health and Medical Industry of Turkmenistan in ensuring that the 95 reproductive health rooms countrywide do not experience a stock-out of the contraceptives.  Launched in 1997 with the support of UNFPA, the rooms today provide free government-sponsored contraceptives to at-risk women like Jeren.
Globally the COVID-19 pandemic is having a catastrophic impact on women and girls as health systems become overloaded, facilities close and many women and girls choose to skip important medical checkups through fear of contracting the virus.  Global supply chain disruptions also causes significant shortages of contraceptives leading to 7 million unintended pregnancies, often with devastating consequences, an increase in unsafe abortions and associated complications and a rise in sexually transmitted infections and HIV, based on the recent UNFPA projections.
UNFPA Turkmenistan procured 8,000 vials of modern injectable contraceptives Sayana Press to meet the needs of the women and girls who receive services at the reproductive health rooms of the country. 
"The Sayana Press is already distributed in all city and village reproductive health rooms countrywide.  Only within last two weeks we already received a wave of women who would like to plan their pregnancies," said Dr. Zulfiya Sharipova, reproductive health specialist in the northern Dashoguz region of Turkmenistan. "The family doctors know the most at-risk women in their area and encourage them to visit our rooms to get a free contraception that is suitable for them."
The at-risk group includes women with chronic conditions, such as anemia, oncology, infectious diseases, diabetes, and heart disease. Women who have more than eight children, from low-income families and 15-19 aged adolescent girls are also part of the vulnerable group who are eligible to receive one of four modern contraceptives free of charge.
Maral, 28, just gave birth to her baby girl and was standing in line to get an IUD, most popular form of contraception among women in the country. "We are happy with our two daughters and we also have elderly to take care of, so we decided to postpone our next pregnancy at least by three years." Following her consultation, Maral was also prescribed Sayana Press since "a woman should not use IUD after a C-section," advised her reproductologist.
"While nearly half of women in Turkmenistan use modern methods of contraception, there are still 9.7 percent who would like to plan when to become pregnant but either, do not have means, decision power or information to do so," said Ayna Seyitliyeva, UNFPA Assistant Representative.  "The global pandemic continues to deepen the inequalities. UNFPA is ready to support the Government to ensure that the reproductive health commodities and services are accessible, averting projected stock-outs of contraceptives. So it is crucial that women and girls have timely access to safe, quality reproductive health care."
UN entities involved in this initiative
UNFPA
United Nations Population Fund