Story
Early Childhood Development services help children to reach their best potential in Turkmenistan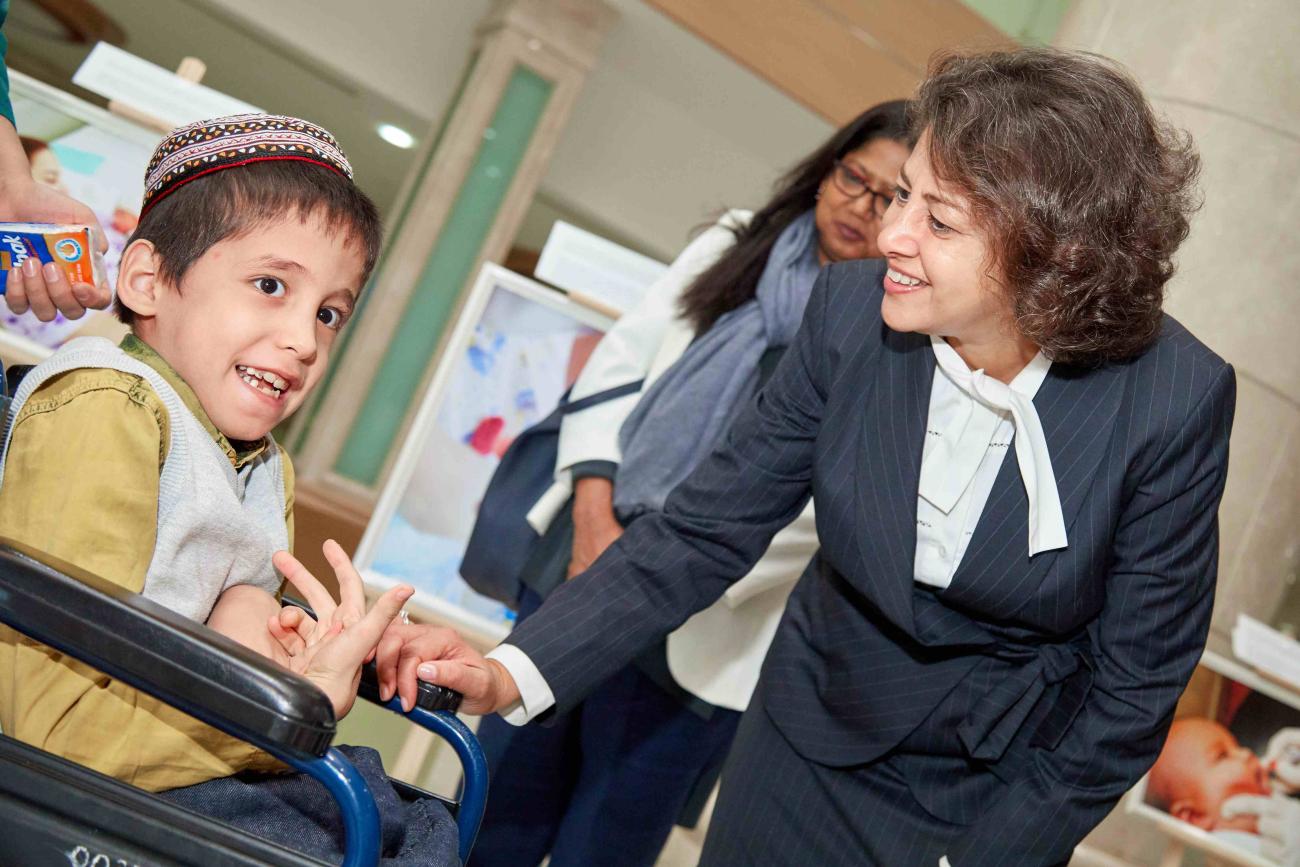 This is Aymuhammet from Turkmenistan, six-year-old boy suffering from cerebral palsy.
Ms. Afshan Khan, UNICEF Regional Director for Europe and Central Asia met him during her recent visit to the Early Childhood Development Department in Turkmenistan's capital Ashgabat. Aymuhammet, among other two thousand children since 2015, benefited from UNICEF supported vital integrated ECD services to children with developmental delays at the ECD Department.  
"I had not hoped that Aymuhammet would come this far in his development," said Lachin, Aymuhammet's mother. "We started visiting the Early Childhood Development Department when my son was three years old. When we came, Aymuhammet could not do many things – he couldn't hold his head, communicate or hold a pen in hand. With support of ECD services, Aymuhammet started pronouncing the first distinct words. I have never thought he would be able to express himself, and moreover, study in a school," said Lachin in excitement.
Aymuhammet can now recite poems as a primary year student of a mainstream school where he learns in an inclusive environment. Despite some infrastructural challenges Aymuhammet is eager to learn, and teachers are keen on engaging him in classroom activities and education. When asked by Ms. Afshan Khan, if he liked going to school, Aymuhammet's face mirrors with happiness and smile.
"I can't wait to see my classmates and learn," responds Aymuhammet excitingly. Aymuhammet wakes up at 5.30 in the morning in anticipation of another great day with friends at school. After school, he attends the physical therapy sessions at the ECD Department attended by trained and caring professionals.
"Half of Aymuhammet's success is support and love of parents," says Ms. Sulgun Berdiyeva, Head of the Early Childhood Development Department. "We make services available for all children with developmental delays in the country. The ECD Department intensified efforts to promote its services in all regions of Turkmenistan since its opening in 2015. We develop an individual plan for every incoming child based on the development needs. Once the development is on track or delays are minimized, we work with education colleagues who ensure that these children are ready to enter the primary school," said Sulgun Berdiyeva.
The Department has been operating for three years, but is already very popular among parents, ECD specialists and decision makers for tangible and cost-effective results that positively influence the future of children. An enabling policy environment framed into the national Concept on Developmental Pediatrics and Early Intervention for 2016-2020 also facilitates the mainstreaming of ECD services in the country.  
The ECD Department also serves as a research and training centre for future ECD professionals and provides in-service capacity building interventions. With UNICEF's support, the Department has established close partnership with the Ankara University's Division of Developmental Pediatrics. This cooperation helped to build adequate capacity and enable new early intervention services, including training of core staff in providing quality ECD services, development of national trainers, provision of a training package and introduction of the paper based and digital Guide to Monitoring of Child's Development (GMCD).  
During her visit, Ms.Khan together with Mr. Alty Annayev, Director, Mother and Child Healthcare Centre, launched the digital GMCD in Turkmenistan. GMCD is an efficient tool to detect developmental delays in children and aims at speeding up the identification process of developmental delays and ensuring accuracy of proposed family support interventions for children from birth to 3.5 years old. Thus, GMCD instrument will help to enhance the identification of delays up to 70 percent.
"Aymuhammet's story should be one of hope for all children and families in the country. I hope that ECD services can be scaled up across Turkmenistan so that every child can enjoy life and go to school and take every opportunity to thrive," shared Ms. Afshan Khan.
One hopes the new ECD Strategy for 2018-2024 will further accelerate delivery of integrated ECD services in Turkmenistan.  
UN entities involved in this initiative
UNICEF
United Nations Children's Fund