Children in Turkmenistan take part in interactive sessions to mark the the Global Handwashing Day
Throughout this two-day campaign, UNICEF will have reached around one thousand primary school children. As part of campaign, UNICEF will also distribute posters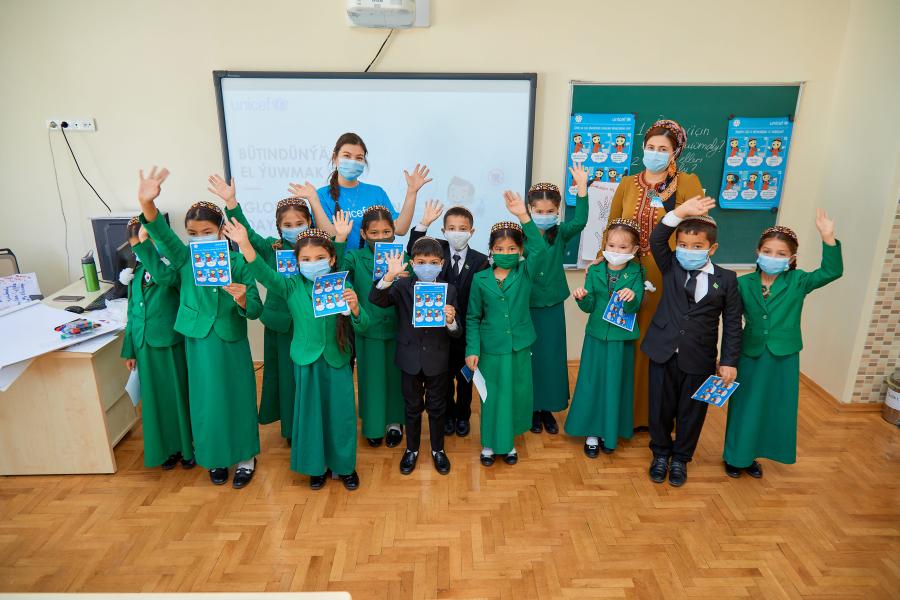 Photo | UNICEF Turkmenistan
"I wash my hands five times a day", "And I wash seven", exclaimed third grade students of school 37 in Ashgabat, Turkmenistan at the learning session organized by the Ministry of Education and UNICEF on the occasion of the Global Handwashing Day today.
On 15-16 October 2020 UNICEF is visiting eight schools in the capital and the neighboring Ahal province to raise awareness of children on the importance of handwashing and to remind them why, when and how to wash hands to protect their health.
"We need to wash our hands after we play with pets. We also need to wash hands before we eat a meal and after we play a ball," said Chynar Tangylyjova, student of school 89 in Ashgabat during the session on identifying when children needed to wash their hands.  
"There are germs in our hands invisible to us, so we need to wash our hands even if they seem to be clean," said Muhammet Serdarow from school 89, who played the game "Invisible Germs".
"I wash my hands every day upon return from school," proudly noted Rahym Sapayew from the same school.
UN entities involved in this initiative
UNICEF
United Nations Children's Fund