Story
Mahri and Shirin on Challenging Gender Stereotypes in ICT in Turkmenistan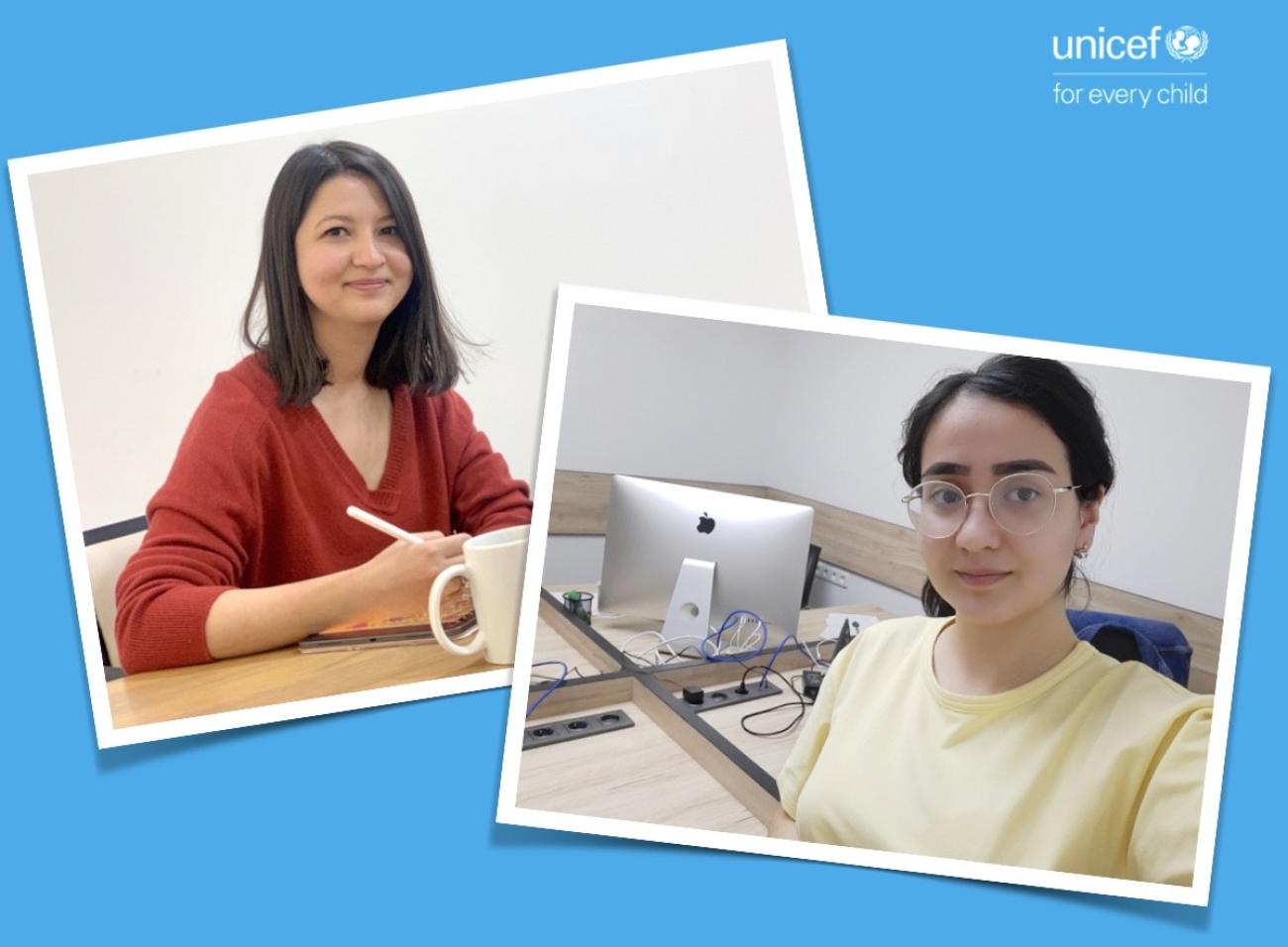 UNICEF Turkmenistan would like to highlight two of these girls whose achievements in ICT make them stand apart and lead as role models in their communities.
The XXI century still witnesses the spread of gender-based stereotypes that limit girls from the full development of their potential and pursuit of their professional goals. This trend is especially evident in the professions that have been mainly associated with men, like ICT.
In Turkmenistan ICT has also been viewed as an area occupied by males, however, there is a new generation of girls who are challenging this notion. UNICEF Turkmenistan would like to highlight two of these girls whose achievements in ICT make them stand apart and lead as role models in their communities.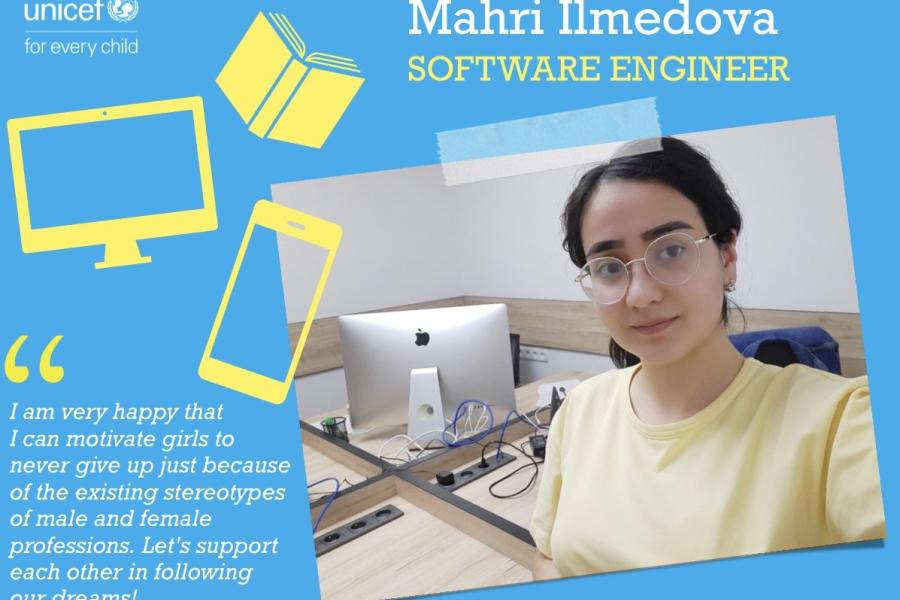 Mahri is a young IT specialist who educates and empowers women and girls by teaching digital skills at her own university. She is an example for all girls in her classes to learn and become the technology leaders of the future. From her early childhood, Mahri always knew that her life would be connected with computers: she was always interested in playing with the gadgets of her parents and exploring the features of digital devices. During her school years, every week Mahri was eagerly waiting for her Information Technologies (IT) classes, where she started her journey by making basic steps in computer science. After graduating from the secondary school, Mahri has successfully applied for a BA degree at the International University for the Humanities and Development in Ashgabat.
"When I had to choose the field for my university degree, I applied to the Faculty of Programming for Computers without any doubt in my mind," Mahri says.
During her academic years, in addition to being a student with a high academic GPA, Mahri was actively involved in extracurricular activities of the university life. For example, she was the leader of Turkmenistan's team at an international scientific competition in robotics RoboRave International in Beijing, China in 2017, where Mahri's proposed project won the cup titled "The most innovative idea".
"The concept of our robot was in creating a mechanism for antibacterial cleaning of the surface of the mobile phone . I was extremely proud and honored to represent Turkmenistan for the first time at this high-level competition. Now in hindsight, I understand the importance of our project in the context of COVID-19 as far as our mobile phones represent a pathway for microbial transmission of viruses", she says.
However, the list of achievements of Mahri in IT does not end here. She continues to inspire the younger generation to compete in the tech space by increasing the profile of girls in science, technology, engineering, and mathematics (STEM) and filling the gender gap by becoming an example of a person who is not afraid of being the first in an unaccustomed environment for girls. Mahri was the only female Programme Engineer winning awards among other competitors at various State Competitions such as National Young Scientists' Innovations Competition and Innovation Project Contest "Digital Solution - 2020" with her initiative offering the first-ever online university documenting platform in Turkmenistan iuhd.edu.tm. Mahri is also an author of big projects such as turkmentv.gov.tm; tmintern.link; okuwcy.com.tm; neos.global.uk and so on.
Currently, she is a representative of Google Developers Group in Ashgabat, a teacher at the International University for the Humanities and Development and the only female programmer at the TPS advertising agency.
"I am very happy that I can share my experience with other students and motivate girls to never give up just because of the existing stereotypes of male and female professions. Let's support each other in following our dreams and achieving great results in the IT industry!" says Mahri Ilmedova, young software engineer of Turkmenistan.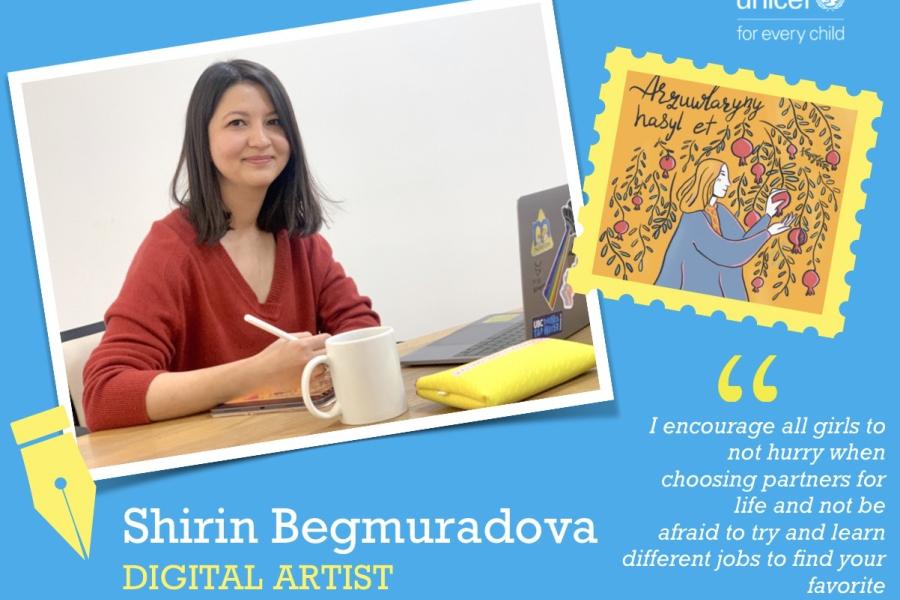 "I remember that in my childhood my father would always get the latest "Pentiums" to keep up with new tech. In the early 2000's I used to play Warcraft 3, chat with people from abroad on ICQ and learn to draw on Paint," says Shirin Begmuradova, young digital artist and commercial illustrator from Ashgabat.
Parental encouragement and support for learning activities such as sports, music and visual art, in Shirin's family were always at a high level. Therefore, her family played an important role in her education and helping her study abroad.
"My mother always encouraged me to prioritize higher education after secondary school and work on my career despite gender stereotypes in our culture," she says.
With the full support of her parents, Shirin first started her pathway in International Business Management in one of the leading financial centers and a global hub for technologies, innovation, and advancement - London. Because the Campus of University of East Anglia was close to Shoreditch (art cluster in London) she not only learned Business, Economics and Marketing but also fell in love with Art and Design. She started learning Adobe Illustrator for fun by herself and do some Fashion Illustration. During her university life, this artist-to-be from Turkmenistan explored museums, galleries and architecture in London to enrich her oversight in arts.
One of the significant periods in the academic life of Shirin was the course of Sociology, where she received more knowledge on various aspects of gender.
"Courses on Sociology at the University of East Anglia provided me with a personal and academic exploration of gender in its many manifestations. It helped me to understand that there is no defined separate pathways and professions for males and females and that everyone can be a catalyzer of change in breaking the gender-based stereotypes," states Shirin.
After graduating with her Bachelor degree Shirin started working with her family, opening and developing the UK's well-known franchise, Mothercare, in Turkmenistan's market.
Later on, after 4 years she had a chance to return to developing her design skills and decided to switch her profession by completing courses of graphic design at the British Columbia Institute of Technology in Vancouver, Canada.
After returning to Turkmenistan from the long journey in design and ICT, Shirin started to make digital illustrations using the national Turkmen style, which was warmly welcomed by her audience on social media channels and her Instagram account.
Shirin, or rather "shirinanay", as she is commonly known in the digital art market is a well-established name with her customers that include locally established online shopping markets, cafes and makes localized postcards. Recently she participated in the international multidisciplinary art project Art Plov CA, where together with other participants from Central Asia generated new publication with her illustrations. She also participated in the networking event organized by EU Delegation to Turkmenistan called "Women in various positions" where she shared some insight about the illustrations market and encouraged others to achieve great results in chosen areas. She also worked on a few projects with UNFPA as a Graphic Designer and illustrator where she helped the office to create user-friendly illustrations for various projects.
Talking about her career achievements in ICT and art, Shirin proudly mentions the importance of the support of her parents and husband.
"I am sure that when you desire to make significant changes in your life and your spouse is not on board, the process will be challenging at best and devastating at worst. I'm very thankful that my parents and my husband supported me in making a move into the illustrations and design business and pushed me to go forward and make changes in our community. I encourage all girls to not hurry when choosing partners for life and not be afraid to try and learn different jobs to find your favorite," says Shirin, Turkmen digital artist.
Written by
UN entities involved in this initiative
UNICEF
United Nations Children's Fund