Story
Turkmenistan continues to play a leading role in ending statelessness in Central Asia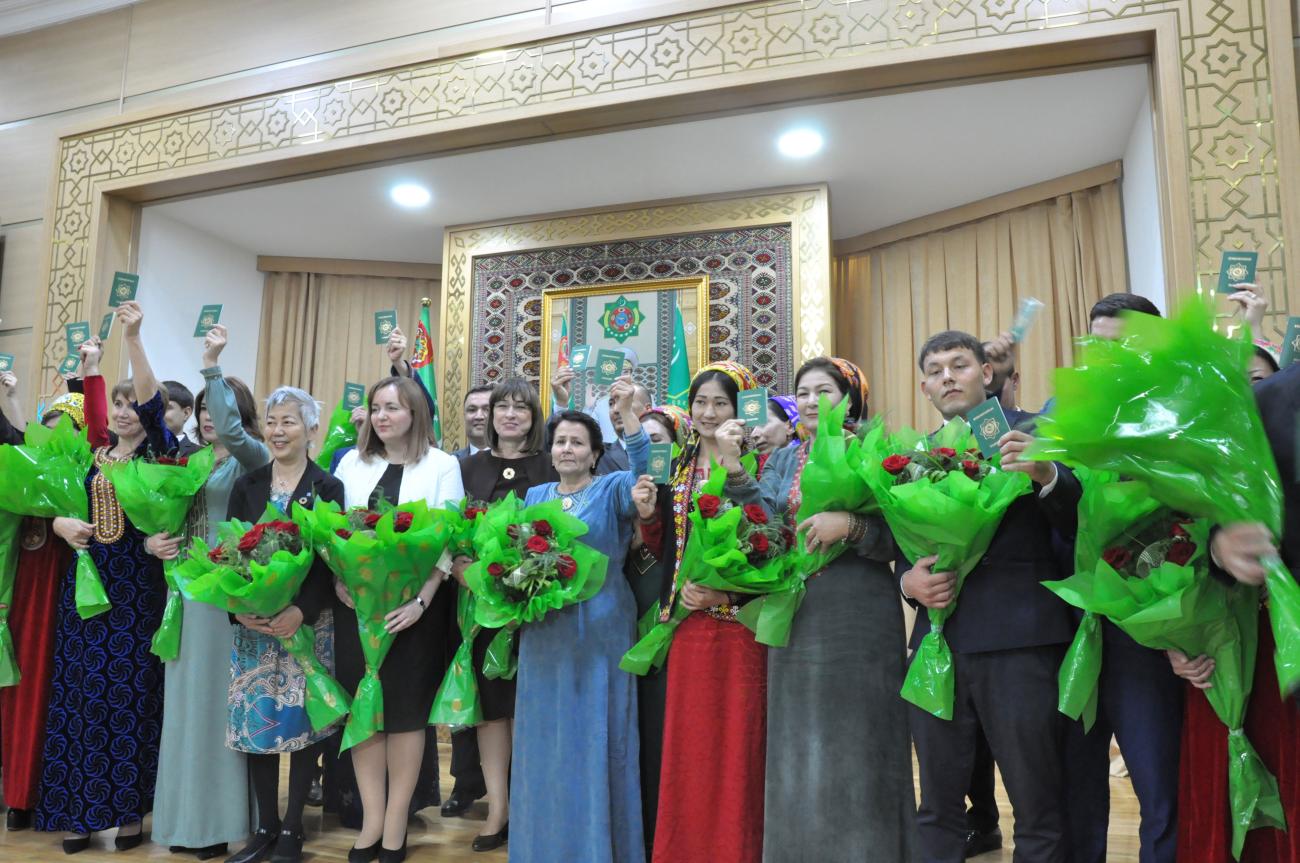 On the eve of celebrating the Independence Day on 27 September 2019, Turkmenistan granted citizenship to 863 former stateless persons living in the country.
On September 2018, 735 stateless persons received identity documents of Turkmenistan. Overall, since 2011 9,743 stateless persons received the Turkmen citizenship demonstrating Turkmenistan's strong commitment and to eradicate statelessness in the country.
Mukaddas Yussupova, 45 years old, from Dashoguz Veloyat, is one of the former stateless persons who was granted citizenship and received a passport in 2019. In 1995 she moved from Uzbekistan to Turkmenistan and got married here. She applied for Turkmen citizenship in 2015 and now is very proud to become a citizen. "For me it is great happiness. Now I can vote and can enjoy all the rights as a citizen of Turkmenistan", said Mukaddas.
Receiving the Turkmen passport means a lot of positive changes for the woman: "I am especially glad that now I can travel freely. To a certain extent I could do it before too, but there are countries where you cannot go if you are stateless. For example, I always wanted to visit India, but it was not possible, as I did not have a passport. Now my dream can come true."
Turkmenistan has achieved significant progress in reducing and preventing statelessness. Turkmenistan ratified all four key UN conventions under the mandate of UNHCR refugees and stateless people: the 1951 Refugee Convention and its 1967 Protocol, the 1954 and 1961 Statelessness Conventions. Turkmenistan is the first country in Central Asia to accede to both Statelessness Conventions and the only one so far.
"In recent years, Turkmenistan has accepted over eight thousand people as its citizens. This is a significant achievement in the global campaign to end statelessness. Thus, Turkmenistan demonstrates to the world community its commitment to fulfill its obligations under the international UN conventions," said Elena Panova, UN Resident Coordinator in Turkmenistan.
In 2019 Turkmenistan endorsed the National Action Plan to end statelessness by 2024, within the timeframe of UNHCR Global #IBELONG campaign. The National Action Plan includes reforming the nationality and civil registry laws to include vital safeguards to prevent children from being born stateless; improving birth registration including late birth registration so that vulnerable communities are able to obtain proof of their place of birth and parentage with the issuance of birth certificates; ensuring that those with an entitlement to nationality are documented as nationals; and improving the availability of qualitative and quantitative data on stateless persons.
"I would like to congratulate Turkmenistan on the establishment of this important Action Plan and convey my sincere appreciation to His Excellency President Gurbanguly Berdimuhamedov for officially endorsing this ambitious action plan at the highest level in the country. UNHCR stands ready to support and is eager to closely work with the Government in its implementation in order to put an end to statelessness In Turkmenistan by 2024," said Yasuko Oda, Regional Representative of UNHCR in Central Asia.
In a world composed of States, the condition of being stateless is an anomaly. Statelessness often deprives a person of many of his or her fundamental rights and prevents his or her full participation to the society. The human cost can be severe: statelessness impacts upon a person's access to education, healthcare, formal employment, property rights and freedom of movement to name but a few.  Turkmenistan's achievements and efforts to end statelessness on its territory is a vivid example demonstrating it is within the power of the countries of this world to correct this injustice.
UN entities involved in this initiative
IOM
International Organization for Migration
UNHCR
United Nations High Commissioner for Refugees