Story
UNICEF and Young SDG Ambassadors Recollect their Joint Work in 2022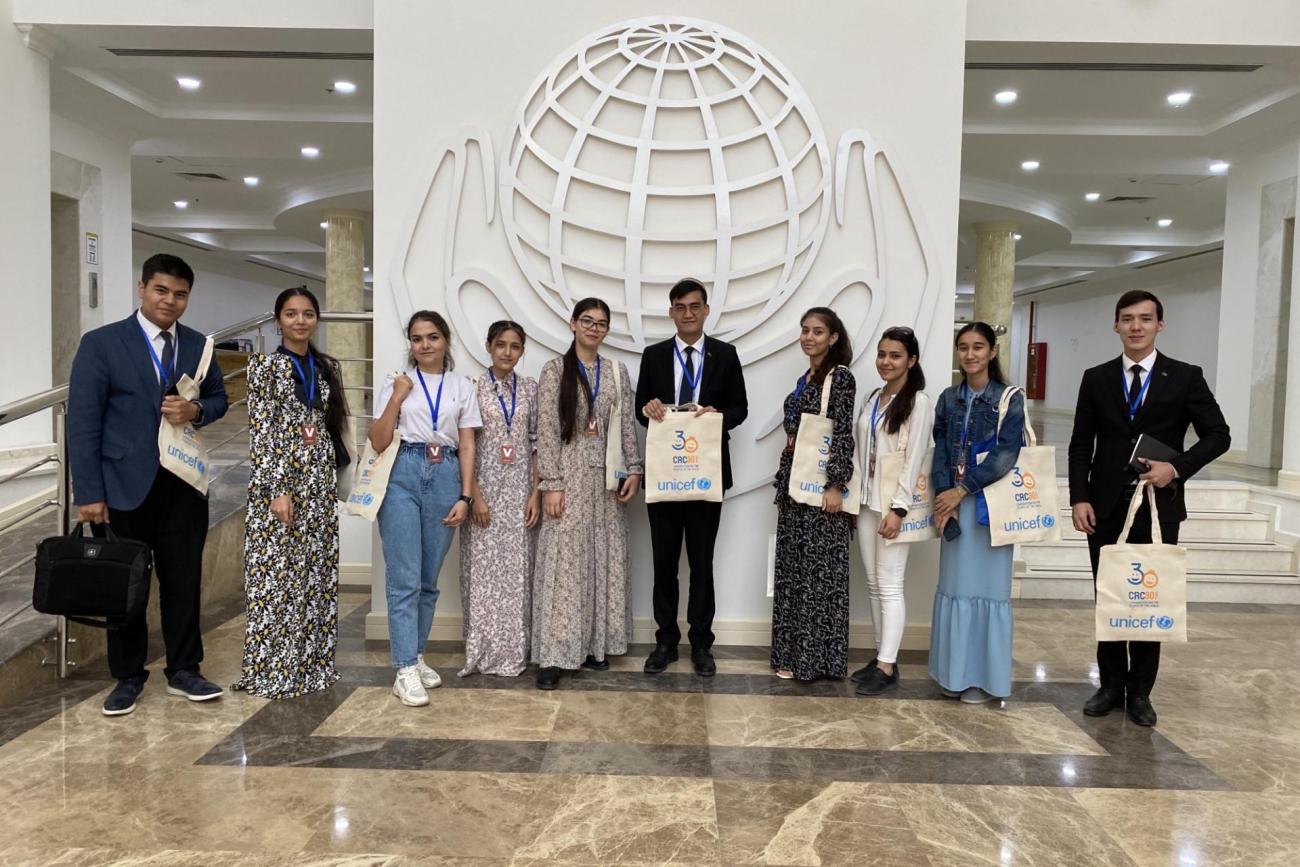 2022 was the third year of Young SDG Ambassadors contributing to social good in Turkmenistan.
Initiated in 2019 by UN Resident Coordinator Office and Ministry of Foreign Affairs, 2022 was the third year of Young SDG Ambassadors contributing to social good in Turkmenistan. Throughout these years, UNICEF together with the Government and UN partners in Turkmenistan continuously worked with the Young SDG Ambassadors to promote child rights and raise awareness on diverse topics related to child wellbeing, from climate change and healthy lifestyle to education and gender equality. To highlight their efforts, UNICEF and Young Ambassadors recollect their experience and share some of the stories from 2022 that showcase the valuable contribution made by young people for children in Turkmenistan.
In October 2022, the United Nations Office for Disaster Risk Reduction (UNDRR) and UNICEF in collaboration with the Ministry of Defense and National Red Crescent Society in dedication of the International Day for Disaster Risk Reduction organized a celebration to acknowledge the progress being made towards reducing disaster risks in Turkmenistan. Shukurgeldi Myradov, Young Ambassador for SDG 17 (partnerships) and coordinator of the 3rd Cohort of Young SDG Ambassadors, a student at Turkmen State Architecture and Construction Institute, took active part in co-facilitating the event and learned the importance of early-warning systems.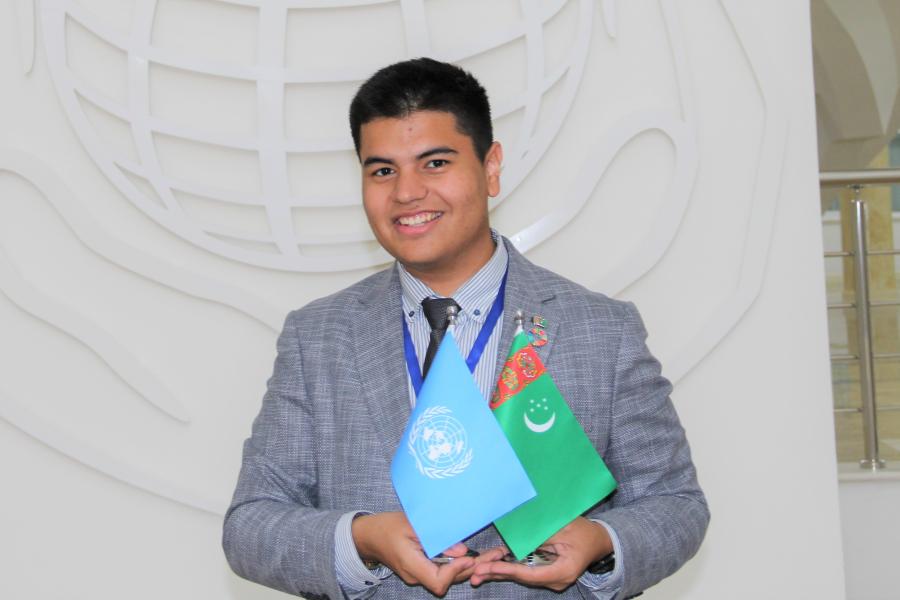 "Youth can bring input being the torchbearers of peace and innovations! Given opportunities, young people will co-design a prosperous future together!" says Shukurgeldi Myradov.
The importance of creating a climate-resilient planet has been a talking point for many Young SDG Ambassadors in 2022. Whether in delivering information sessions for school students on Earth Day or engaging with children in summer camps, these young people have been continuously promoting sustainable living.
"The future of our planet, the future of environment, of peace and development, solely depends on our actions today", says Kerwenmyrat Myradow, Young Ambassador of SDG 11 (sustainable cities and communities).
On 16-17 November, the European Union and UNICEF, together with European Training Foundation (ETF) held a regional dialogue for young people from Central Asia, on the sidelines of the EU-Central Asia Connectivity Conference. Maral Allaberdiyeva and Nowruz Nurberdiyev were among the four SDG Ambassadors from Turkmenistan who participated online and exchanged ideas and experience with young people from the neighboring countries. She is the Young Ambassador of SDG 4 (quality education) and SDG 8 (decent work and economic growth) and he is Ambassador of SDG 16 (clean water and sanitation) and SDG 5 (gender equality). They both study at International University for the Humanities and Development with Maral majoring in International Trade and Nowruz in International Public Law.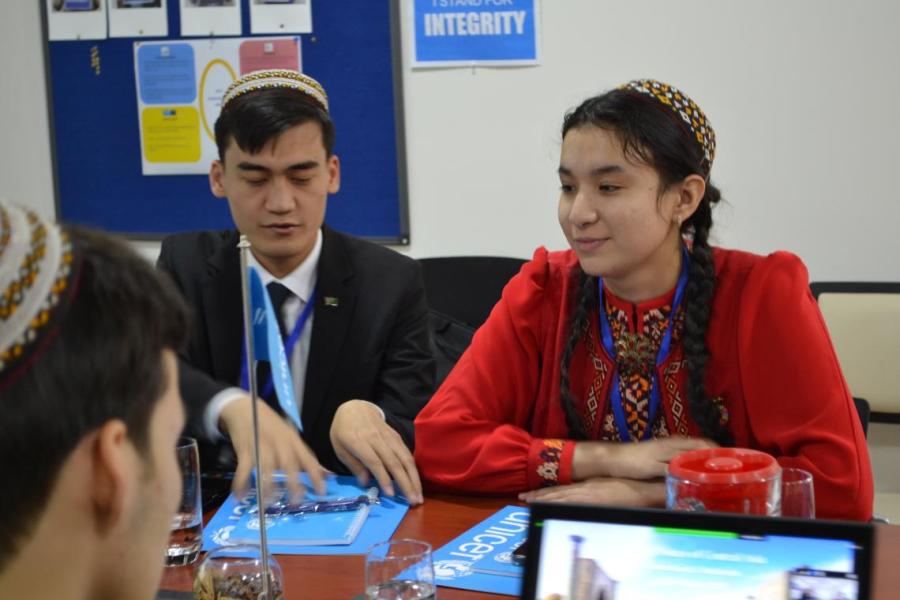 "Just recently, I was lucky to take part in the event "Young Voices of Central Asia" where we, the ambassadors of the SDGs, together with other young people, could discuss issues concerning us, youth. I was pleased with the entrepreneurial spirit and creativity of young people. Participating in thematic sessions, we could offer ideas for combating climate change, for promoting digitalization and gender equality. Through these and many other UN activities, young people have a chance to expand their knowledge, promote and develop a more sustainable life. I am very glad to have these opportunities, because I believe in lifelong learning!", says Maral Allaberdyyeva. Nowruz adds: "Because the future leaders of tomorrow are today's youth with great potential. We will actively promote the SDGs towards the sustainable future we want to live in."
Photo: © Yupar Egirjayeva
Yupar, who is a Young SDG Ambassador for Goal 6 (clean water and sanitation) and a second-year student at the Institute of International Relations of the Ministry of Foreign Affairs of Turkmenistan, had an opportunity to voice ideas and initiatives at the 23rd International Children's Forum on Climate Change which was organized by the Ministry of Family and Social Services and UNICEF in Ankara, Turkiye, from November 20 to 22, 2022. Young participants discussed climate change in the region, attitudes of young people towards the environment, climate change and youth rights.
"Small steps can turn into bigger steps, and they can inspire others to make changes too", notes Yupar Egirjayeva.

Calling on the general theme of youth participation and empowerment, Young Ambassador of SDG 5 (gender equality), Shabibi Beshimova says: "I was lucky to meet some of the brightest women of my country. I can't stop discovering how strong and amazing women and girls can be. As an SDG Ambassador for gender equality, I will continue making my best efforts in 2023 to further promote my Goal and make sure each and every girl in our country knows her value and achieves the best".
In addition to engaging youth in events, in 2022, UNICEF also focused on capacity building of young people in advocacy and communication, data and evaluations, which makes youth voices stronger and evidence-based, and contributes to being a role model among peers and wider society. Young people are speaking out and taking action for SDGs and children in their daily life, ranging from championing the rights of children with disabilities to promoting gender equality and living in harmony with the environment. Just as the Government announced the official motto of the year "2023 - Arkadag Serdarly bagtyýar ýaşlar ýyly (2023 - Happy Youth with Arkadag Serdar)", UNICEF will continue to scale up its work with Young SDG Ambassadors in 2023, and in this way empower them to contribute to a future for every child in the country.
Written by
UN entities involved in this initiative
UNICEF
United Nations Children's Fund